Fun date ideas in London, whatever your style
🕵️‍♂️ By Lauren Holford | ✍️ 4th Mar, 2019
---
Valentine's Day may have had all the hype, but most of us are nearly always in need of a fun date idea. Whether you're single and looking to impress a first date, been together forever and dedicated to enjoying quality time in each others' company, or somewhere in between, we've got loads of unique ideas for what to do on a date in London, so you never have to resort to the same old again. Enjoy!
Active dates
You'd be forgiven for thinking the best active and adventure date ideas are outside of the concrete jungle, but London actually boasts a surprising number of urban fitness activities and active fun.
Make the most of London's best parks and cycleways by hiring Santander bikes from one of the hundreds of docking stations and feel like tourists for the day as you pedal past some of the city's most-loved monuments. Or, if you've been there and done that, pick from one of six itineraries that take in hidden gems from secret gardens to independent shops and markets.
For those that love a challenge, swap climbing mountain tops for viewpoints perched above the city. Hidden between The Square Mile's newer city skyscrapers, London's Monument boasts an (almost) secret view of London, which is accessible for less than £5pp and an energetic climb up its 311 steps to the top. If you've got more cash to splash, book to climb up and over the roof of the O2 for an alternative view over the city.
Another great option if you're celebrating or just feeling flush is a unique kayaking trip with Secret Adventures (prices start from £45pp). Choose to conquer the Thames as you journey from Greenwich all the way to Battersea or head out East along London's oldest canal on a 6km paddle from Limehouse to Crate Brewery's waterside bar in Hackney Wick.
Maybe the sunshine has got us thinking ahead to summer, but getting in the water can also be a fun London date for those with a sense of adventure. London's lidos or outdoor pools are cheap to visit at around a fiver a pop and provide a really memorable experience. Why not take a dip in Brockwell's 50m outdoor lido and follow it up with brunch at the Lido Cafe?
From 1st May throughout the summer, you can also swim at Tooting Bec Lido - England's largest freshwater pool lined with iconically colourful changing rooms - plunge into Hampstead's Bathing Pools or take to the home of Britain's oldest swimming club; the Serpentine Lido in Hyde Park. You'll be hard pushed to find a more iconic London swimming spot!
Outdoor dates
Getting outside on a date doesn't have to involve full-on fitness. Prepare for a cryptic adventure of discovery as you stroll the city's backstreets and encounter overlooked gems on one of our Urban Hunt trails.
With five routes to choose from in London starting at just £10pp, you're spoilt for choice from Borough to The City, a riverside pub crawl to famous London movie locations. If you are single and keen to mingle with like-minded Londoners, register for one of our date night events in association with My Friend Charlie - the next one will be on 20th March, so keep an eye-out for the ticket release!
If art is more your style, follow one of the recommended walking routes to hop between Shoreditch galleries on the first Thursday of each month or get organised and bag standing tickets to a play under the stars at Shakespeare's Globe Theatre - outdoor performances run from April to October and there are 700 tickets available for just £5 at every one.
Foodie dates
Whether you fancy yourself as a bit of a wine connoisseur or just love to drink the stuff, head down to one of Vagabonds five wine bars in London, grab yourself a tab card and conduct your own self-service wine tasting.
For beer-lovers, be sure to take advantage of city breweries that offer tours including beer tastings. Skip the kayaking and head straight to Crate Brewery in Hackney Wick, or if you're the other side of town, drop by Meantime in Greenwich or Fuller's in Chiswick. Best of all, Sam Brooks in Battersea offer brewery tours including a pint for just three quid!
Ok, so what about actual food? If you both love sushi, consider trying Yo Sushi's Workshop for Two at Fulham Broadway - for £50 you'll get to share a whole creative experience together before enjoying the fruits of your labour for dinner. Budding chefs can learn to perfect anything from freshly-made pasta to authentic curry with Jamie Oliver Cookery School in Shepherd's Bush for around £50pp or push the boat out with baking classes from Borough Market superstar Bread Ahead starting from £90pp.
If you're more about eating than cooking, give going to dinner an unforgettable twist at Dans Le Noir, where you'll eat a surprise menu in complete darkness, served by blind waiters. Dubbed a unique human and sensory experience, not only will you get to know your date's personality as you chat endlessly to fill the void, you'll be less prejudiced about trying foods you would never otherwise give a go.
Indoor Fun
The activity bar scene is booming in London, whether you've got a competitive streak, love a bit of nostalgia or just want to take the pressure off introductions, let your actions speak louder than words. Whereas darts, ping pong or table football might have seemed super niche date ideas 10 years, Flight Club, Bounce and Bar Kick have brought them up-to-date and added bonus booze.
Perhaps the most popular among activities is crazy golf, that seems to have popped up everywhere and anywhere in London. Swingers are a hot favourite in the city or opt to combine a visit to Junkyard Golf with our Tales of the Edgy East trail for an awesome Shoreditch day out. From next month you can combine lateral thinking with your golfing prowess at Plonk Golf's new BYOB venue in Shoreditch or if the sun is shining consider Wandsworth, Acton or Battersea's Putt in the Park.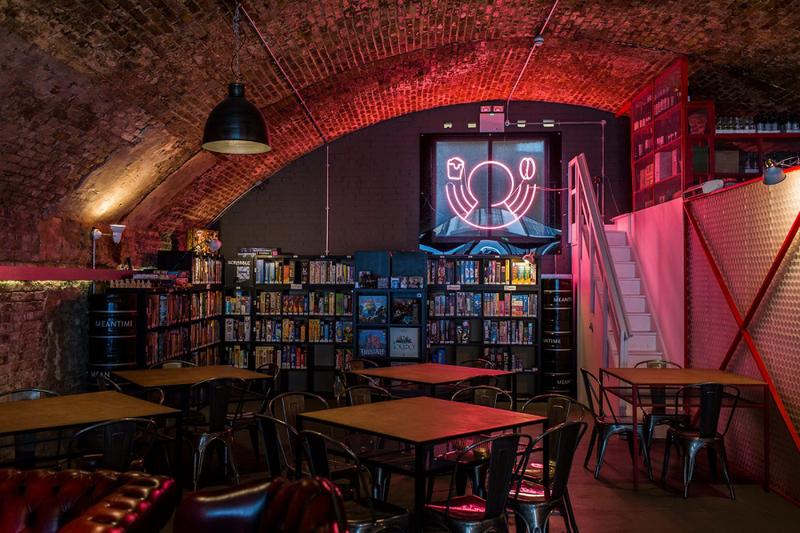 Take a trip down memor lane with more sedate options, like reliving some of your favourite video and arcade games (think Pac Man or Streetfighter) at the Four Thieves in Clapham or Peckham's Four Quarters or go even more old-school at Draughts in Hackney, where you can choose from over 500 board games to play.
Arty dates
For an arty fix with a side of live music and wine, drop by the V&A Museum's Friday lates, or if you want to get more hands-on creative book tickets for Paint Jam's next monthly part rave, part art class, where you'll transform blank canvases to works of art while listening to a live DJ and getting drinks from the bar (from £35pp). If that sounds too hectic, play it more relaxed with Popup Painting, where you can unleash your creativity with a glass of wine in one hand and a paintbrush in other (from £35pp) or get crafty with clay at Wonderland Ceramics in Hackney (from £10pp).
Do you know of any other unique London date ideas? What was your favourite ever date? Let us know in the comments below, so we can add them!
---